« O! and the Space Hippies | Main | RIP Isaac Hayes »
August 10, 2008
The real deal (Updated)
A picture is worth: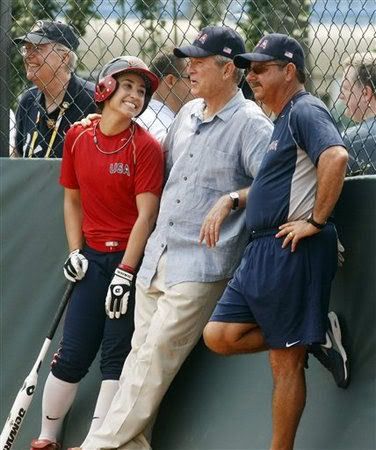 Outside of the Leftcultists, (dkos, pandagon, moveon, et al) who masturbate to photoshopped pics of President Bush eating babies while whispering "evil evil evil", reasonable and sane people don't deny the man his innate humanity and humility, even as they may have policy differences. Whether among the troops or in meeting with families, GW easily demonstrates a geniune common touch. Something that is evident again in his interactions with American Olympic athletes.
From The Anchoress
You remember Bush, right? The guy who goes to Asia and tells China to free her people, while the press jeers, the guy who, while in Asia also meets with Democracy Activists in Burma and gets ignored for it, the guy who drew enormous and supportive crowds in Korea, while the American press yawned?

Sure, you remember Bush! He's the guy whose life was threatened along with Barack Obama's but only the threat to Obama was newsworthy for a very long time at CNN. Bush? You mean the creepy moron who will be charged with war crimes and crimes against humanity as soon as congress can figure out how to do that without exposing itself or having to put some of its own members under oath?

Yeah, that guy! The guy who does more than just talk about freedom and progress. The guy who has brought real hope and change to people all over the world, and yes, here in America. But you don't want to hear it. It's the wrong and inconvenient narrative, the embargoed one.
UPDATE
Bush knuckled off a couple of lobs, but defending gold medalists Misty May-Treanor and Kerri Walsh gave the chief executive some pointers. Then after a good play, in the tradition of female volleyballers, May-Treanor turned, bent over slightly and offered her bikinied rear-end for the 43rd president to slap.

"Mr. President," she said, "want to?"

Want to has nothing to do with it in public life.

As the son of a president, a husband of nearly 37 years, the father of two daughters, the subject of some attempted tabloid exposes and a seasoned political veteran, who is not a female athlete but knows that every camera for a half-mile is trained on him, Bush wisely chose instead to brush his hand across the small of May-Treanor's back. (See photo.)

Darn!
(h/t
Fausta
)
Posted by Darleen at August 10, 2008 12:17 AM
Comments
Hey Darleen,
I just quit watching th'lmpics for the time being. I came away from the gymnastics competition wondering how the S. Arabians are dealing with the broadcast visuals of the games given that they can't bring themselves to send women competitors to the games. The pictures I've seen certainly don't comport with the public behaviors of the Saudis but I am given to wondering how their ordinary citizen deals with them in the privacy of her home. If she has the opportunity to see women from other lands competing for athletic glory, does she tsk-tsk their physical public displays or does she rue her own cramped existence, thinking perhaps, "I used to run as a child and enjoyed it quite well, why, I was even good at it. Pity."?
Posted by: sdferr at August 10, 2008 06:38 PM