« Where am I? (bumped) | Main | Queen Nan and Crazy Cindy »
August 03, 2008
Completed:
Woohoo. I've gotten something completed.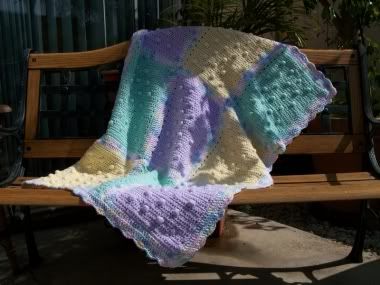 click on picture for larger image
I crocheted this crib-size blanket with Bernat's cottontots. I love the "popcorn" stitching and the muted, almost vintage, colors.
I'm now working on an entirely different baby blanket.
Posted by Darleen at August 3, 2008 09:21 AM
Comments
Looks great! How long did it take?
Posted by: Digger at August 5, 2008 02:44 PM
Hi Digger
Well I did it mostly at lunch hours, odds times on weekends... I figure probably between 40-50 hours spread over 3 months.
Posted by: Darleen at August 5, 2008 04:56 PM