« In the 'rational' Left world ... | Main | Los Angeles DCFS caught, again ... »
November 05, 2007
Silly Season -- No fat Santas need apply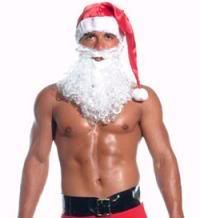 The jolly old elf is being given the boot:
Santa is being told to shift the pounds before Christmas - because the obese saint is failing to set a "good example" for children.

The traditional children's hero, best known for feasting on mince pies left out on Christmas eve, has always sported a bulging midriff.

But shopping centre bosses are giving the well-wisher his marching orders - to the nearest gym - to tackle the increasing problem of obesity.
Why yes, because all the kiddies who hang out their stockings on Christmas eve want nothing else but to grow up and be just like him.
Posted by Darleen at November 5, 2007 03:47 PM
Comments
Fat people are supposed to be jolly, and it's getting harder and harder to stay jolly in the light of crap like this :)

Posted by: Steverino at November 9, 2007 10:12 AM
This can only happen in America.
America certainly sports the highest percentage of overweight people in the world and also the highest amount of fast food restaurants and fatty foods. Obviously there is a correlation between eating habits, the readily available foods and the average weight.
Obesity really might be reduced by having slender role models, but I don't really see Santa as a role model for anybody except a few elves.
However, the better way would be to teach/learn different consumption habits.
This fact applies to the consumption of many things, not just food...
Posted by: Lisa at November 10, 2007 12:26 AM